Internet of Things for Food Manufacturing Industry
 In ways of all shapes and sizes, food sustenance production is taking leverage of web-based devices and applications that address probably the most nettlesome issues in plant operations. Two AC inductors motors makers are introducing sensors at market leading prices that will be used for monitoring temperature, current and vibration, a feature used for expansive hardware that would have disastrous results if affected in anyway. One of these condition-checking devices, the Digital Controls Smart Sensor, soon will have the capacity to ceaselessly transfer information to the cloud for analysis and detailing of upkeep alarms.
The digital controls smart sensor consists of a vibration sensor, temperature gauge and other condition-monitoring sensors. The sensor offers a condition monitoring data that leverages cloud computing capabilities to guide predictive maintenance of AC inductive motors.
The devices provide high maintenance's grip assistance of the industrial internet of things (IIoT). The cloud-based computerized maintenance management software (CMMS) is supplanting asset management framework hosted on a local server. Its cost is an added benefit, but cloud-based CMMS opens up new potential outcomes for increasing production throughput, machine uptime and other tangible benefits. As a consequence, maintenance is leading food manufacturing's charge onto the IIoT.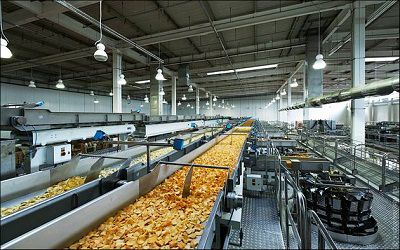 Maintenance specialist are versatile, and a CMMS that empowers portability through individual gadgets for work arrange distribution and editorial input has evident appeal. But the potential for automated analysis of the raw data from field devices, particularly vibration sensors, may finally move food and beverage plants from scheduled and reactive maintenance to predictive maintenance.
The migration of consumer electronics tools into industrial operations is allowing plant managers make an end run on IT to inch toward predictive maintenance. Cell phone technology, data encryption and open source programs are helping maintenance capture data on machine health, patch it up to a remote server and receive real-time feedback while making an end run on IT restrictions.
Cloud-based CMMS liberates maintenance from the tyranny of a local server, suggests Greg Perry, senior maintenance & reliability consultant with Fluke Digital Systems, the umbrella for Fluke Corp.'s cloud-based CMMS, digital sensors for condition monitoring and SCADA system for maintenance. Besides short-circuiting IT concerns about data security, a standalone reliability platform avoids the "siloing of yourself from the rest of the world" that occurs with a locally hosted system, says Perry.
Data-cruncher extraordinary Less data has never been an issue in assembling robotization. PLCs and field gadgets create enough information in a day to keep a person occupied for a lifetime, looking over through it for examples and peculiarities. Decreasing human association in examination or eliminating it totally is the objective of numerous IIoT empowering endeavors.
From the inventory network to the mechanical production system, industry is being revamped through advanced innovation, bringing about more secure, more effective, more beneficial and more nimble activities.
Stay updated :
Participate on our social stream.