Products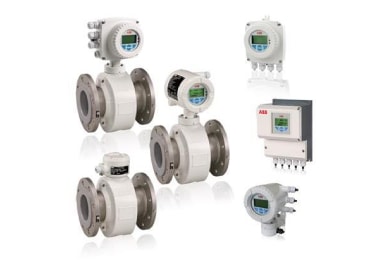 ABB Electromagnetic Flow Meter FEP300
ABB Electromagnetic Flow Meter is suitable for all conductive liquids and offers an accuracy of 0.4% ( Optionally 0.2% ) of the Flow Rate. The Electromagnetic flow meter is offered in various liner material like Rubber, PTFE, PFA, ETFE etc and Choice of Electrode material for Stainless Steel, Hastelloy C, Titanium, Tantalum, Platinum iridium etc. Various Process connection & fitting are offered with an integral mount or remote mount design. Choice of output and communication like 4 – 20 mA, HART, PROFIBUS PA, FOUNDATION Field bus are available. The instrument supports all power supplied like 100 – 230 V AC, 24 V AC , 24 V DC and is available for line size 1/10" to 80".

Process Master is designed specifically to meet the increased requirements on advanced flowmeters. The modular design concept offers flexibility, cost-saving operation, and reliability whilst providing a long service life and exceptionally low maintenance. Using a higher excitation frequency for the transmitter, Process Master is a flowmeter with an, especially short response time.

Are you looking for support or purchase information?