Introducing reliable, ultra-modern & Water Proof Temperature Controllers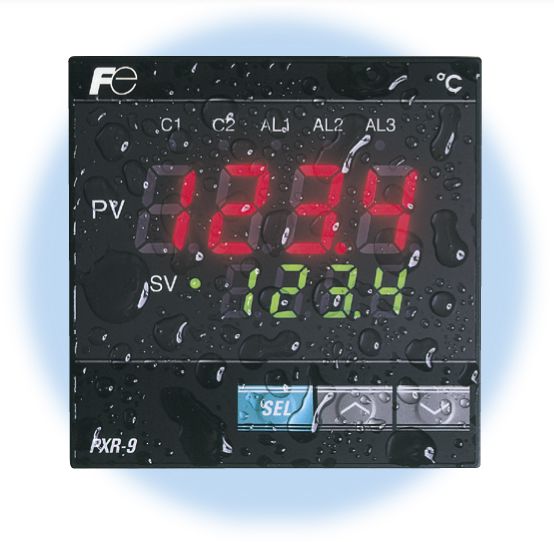 Digital Controls is proud to introduce the Fuji's advanced temperature controllers in India. The temperature controllers feature state-of-art technology with wide product range to suit your needs. These micro-controllers are designed with diversified tuning functions and waterproof conformity. These controls can accept any probe type as input and control devices with four types of output available. It can be set-up easily with its auto-tuning features and delivers long-time performance. They are highly robust and can be easily mountable to a DIN rail. The diversified range of products include:
Digital Temperature Controller (PXF Series): Adaptable controller with brilliant and clear colour LCD
Digital Temperature Controller (PXR3 Series): Flexible model with simple to-see LED, transformer output, communication function and more.
Digital Temperature Controller (PRX4 Socket Type): Socket type for rail mount
Digital Temperature Controller (PXE): Basic and Compact
Digital Controller (PXH): Various Inputs and Outputs, Highly precise and fast output
Module Type Temperature Controller (PUM Series)
Digital Thermostat (PXR3 and PAS3): Identifies overheat of thermocouples or thermostat utilized in various machines or equipment's
DigitalControls is a prominent supplier of automation and instrumentation solutions in various businesses. The organisation's setting delicate and mechanical innovation empowers speedy process and high efficiency. Our advanced automated assembly and manufacturing facilities helps in minimizing the expensive downtime and expands production. We endeavour to constantly enhance our performance and capability with a specific end goal to maintain competitive edge.
Fuji Electric LTD. are universally automation and instrumentation suppliers. The organization empowers its clients to streamline their business procedure, enhance item quality and execute work in an effective framework. Fuji Electric serves huge variety of market both locally and internationally including different industrial sectors. The organization conveys improved administrative consistence and real time process monitoring in manufacturing business.